Clean the grill effortlessly and prepare healthier and more delicious dishes with the grill cleaning brush, an essential tool for outdoor cooking!
FEATURES:
Clean your grill with the power of steam! The result: a sanitized, sparkling grill without the hassle.
BBQ Cleaner steams off grease and grime to remove tough, baked-on food easily.
Clean, healthy grilled food that tastes better. No more black charred residue or chemicals on the grill, or your barbeque.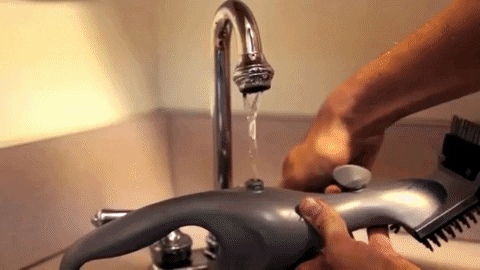 Simply preheat the grill, brush, and sanitize with the BBQ Cleaner steaming grill brush. Toss in the dishwasher when finished.
Pair with BBQ Cleaner's full line of industrial-strength grill cleaning accessories and grilling tools for the perfect gift!
Uses the power of steam to clean tough baked-on food and grease as you brush.
Stainless steel bristles for durability but safe for steel, cast iron, or porcelain grills.
Specially designed stainless steel bristles clean in between grill grates and surfaces.
Built to last, the only grill cleaning you tool you will need.
 Removable brush attachment for easy dishwasher cleaning.